Free Photo
Note
It's The Same Person
In the Preparation – Modeling and Finishing School, Chapter 6 - Part 2, I had to learn Facial Analysis which was the outlined/shaped of one's face; it's your DNA. You cannot change the outline, but you can certainly chisel away at the inside of one's face.
Political Resume Padding for President Obama - Kenya, Africa
Around 1987
Brietbart
The Early Years - 1992
Note from Author Emmie Ross
In the photos listed below, I am merely laying out another piece of evidence to this multi-faceted Vetting of Barack "Barry" Obama and President Obama as two separate individuals. The photos will show Barry was "married" when he started dating Michelle Robinson. You will see a wedding band on "Barry" left finger throughout several photos. Michelle Robinson married President Obama in October 1992. I am not going to insinuate that Michelle and "Barry" were romantically involved as a couple. Personally, I don't know, and don't care. My role as God's witness is to deliver the facts as they appeared politically. The hard evidence of Barry "being married" stands on its own merit.
Brietbart
There's a wedding band on Barack "Barry" Obama's left hand while dating Michelle. Is this the "old furniture that Barack found in a dumpster" she referred to in her political speeches when she met Barack.
Barack "Barry" Obama took Michelle back to his native home to meet the family. A five week visit in 1992.

Brietbartt

A Deceptive Engagement
Barack "Barry" Obama was already married when he proposed to Michelle in 1991
Brietbart - 1991
Proof is on his Left Finger
Photo opt for the camera in establishing the future President Obama's paper trail
Brietbart
Clearly see the Wedding Band on the left hand
Brietbart
There's that wedding band, again at a rally in Kenya
.
Barack "Barry" and Michelle Pose for Family Picture in Kenya
Barry with his beloved Grandmother Sarah
Back on America's Turf
Excerpt taken from President Obama Bio cont'd
"From April to October 1992, a voter registration drive under the Project Vote Illinois was directed by Obama earning inclusion of his name in the "40 under Forty" powers to be, by Crain's Chicago Business for achieving the goal of registering 150,000 of the then 400,000unregistered African Americans in Illinois. This was yet another achievement of the colorful, Barack Obama background."
*****

Article in Chicago Magazine January 1993, focused on Barack Obama's work with project vote and speculated he might go on to higher things[2].
A huge black turnout in November 1992 altered Chicago's electoral landscape-and raised a new political star: a 31-year-old lawyer named Barack Obama...
The most effective minority voter registration drive in memory was the result of careful handiwork by Project Vote!, the local chapter of a not-for-profit national organization. "It was the most efficient campaign I have seen in my 20 years in politics," says Sam Burrell, alderman of the West Side's 29th Ward and a veteran of many registration drives.
At the head of this effort was a little-known 31-year-old African-American lawyer, community organizer, and writer: Barack Obama...In 1984, after Columbia but before Harvard, Obama moved to Chicago. "I came because of Harold Washington," he says. "I wanted to do community organizing, and I couldn't think of a better city than one as energized and hopeful as Chicago was then."

Photo by Brietbart
By 1991, when Obama, law degree in hand, returned to Chicago...black voter registration and turnout in the city were at their lowest points since record keeping began.
http://keywiki.org/index.php/Barack_Obama_-_ACORN_and_Project_Vote
The future President Obama will make three public appearances before he becomes the Democrat United States Senator for Illinois in 2005.
It's October 1992!
President Obama's First public Appearance in the United States from my extensive research!
The Wedding of President Obama and Michelle Robinson
Photo by Brietbart
Just as President Obama popped into the public for his wedding, he popped into thin air after the reception. He would remain silenced until 2004.
How was that possible?
The paper trail led back to Barack Obama (formerly Barry Obama) as he continued mapping the "Blank Page" for the future President Obama's political career into the Oval Office.
Political Photo Ops as Newlyweds and Family

Invertd Triangle Shpaed Face


Barack "Barry" Obama and Michelle

As a Family
Michelle, Barry, and the girls
Update
Researching for information that President Obama had sealed, was like finding a "needle in a haystack." I had my soft music playing on the Internet around 2:00 a.m while doing my research. By now, I can barely keep my eyes opened as the Holy Spirit of God was guiding the research. Then all of a sudden, as I was reading, something in the article listed below caught my eyes which brought clarity to the names Barack Obama, and Barack Hussein Obama. It was all centered on Barack Obama's age -33 years old!
Stanley Ann Durham Obama gave birth on August 4, 1961 as stated on the Birth Certificate of her son Barack Hussein Obama Jr., who legally became Barry Soetoro at the age of six.
Barack"Barry" Obama who was still President Obama's "Decoy and Paper Trail." The article stated the following: "Crain's Chicago Business publishes an annual "40 Under 40" list of young up-and-comers in the Windy City. And in its September 27, 1993 list, 33-year-old Barack Obama was among those honored. ("As a soon-to-be 34-year-old, I suddenly feel like an underachiever.")
The Excerpt told me the following:
Hard Evidence:
Barack Hussein Obama, Jr., was born on August 4, 1961 (the naturalized Birth Certificate of Stanley Ann's son.) In September 1993, Stanley Ann's son would have been 32 years of age, and one month. This astonishing revelation would make Barry Obama and President Obama births somewhere in late 1959.
Proof again, the Birth Certificate of ownership by President Obama is fraudulent.
1993 Crain Business Journal Award
Here is this astonishing article in its entirety listed below:
A Skeptic's Guide to Birtherism
Saturday, June 2, 2012
Crain's Chicago Business obama 1993
In the wake of Breitbart.com's promotion of a 1991 literary agency's biography of a young Barack Obama, there's been increased interest in some circles as to how the President represented himself prior to the start of his political career. And while so much has already been republished online in the last four years, from newspaper articles to videos of book panels, I found one that's been almost completely overlooked.
Crain's Chicago Business publishes an annual "40 Under 40" list of young up-and-comers in the Windy City. And in its September 27, 1993 list, 33-year-old Barack Obama was among those honored. (As a soon-to-be 34-year-old, I suddenly feel like an underachiever.) This recognition has been noted in several of Obama's early biographical sketches, and was quoted from on the Fight the Smears website. But as far as I can tell, it's never been published online in its entirety.
BARACK OBAMA, 33
DIRECTOR
ILLINOIS PROJECT VOTE
Last year, Barack Obama galvanized Chicago's political community as no seasoned politico had before.
The director of Illinois Project Vote orchestrated an unwieldy band of 10 staff members and 700 volunteers to the tune of 150,000 new voters for the general election, the highest number registered in a single effort.
Click on link to read the full article. After reading the article, stroll down a little further to see a newspaper clipping supporting article.

http://barackryphal.blogspot.com/2012/06/barack-obama-in-crains-chicago.html
*****

Probably the hardest thing President Obama did in his life was staying out of the public from October 1992 until July 2004.
Professor Barack "Barry" Obama taught at the University of Chicago
09/12/2012
Excerpts
A longtime professor and one-time interim dean of the University of Chicago Law School told The Daily Caller that Barack Obama was never offered tenure, despite the assertions of a New York Times reporter who covers the president and the first family.
"Other faculty members dreamed of tenured positions; [Obama] turned them down," wrote Times White House Correspondent Jodi Kantor, author of "The Obamas," in a July 30, 2008 profile of the president's twelve years as a lecturer at the University of Chicago Law School.
And yet, according to longtime University of Chicago law professor Richard Epstein, Obama was never actually offered a tenured faculty position.
Read more: http://dailycaller.com/2012/09/12/former-univ-of-chicago-law-school-dean-obama-was-never-offered-tenure/#ixzz2TVzwP9Df
Update – May 2013
The Great Pretender through Identity Theft
Took sometime in researching, actually found an ex-student of Professor Obama.
My View: When the president was my professor – Schools of Thought ...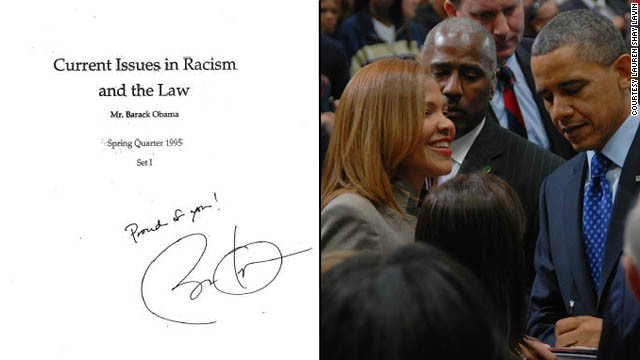 An excited former student who actually thought it was Professor Barack "Barry" Obama.
"It would be special to hear the president addressing the importance of education, but especially for me. He was my law school professor. I wondered if he, now the president of the United States, was aware that he'd had a profound impact on my life years earlier at the University of Chicago Law School?"
Click on the link of Noni Ellison-Southall if you prefer to read more.
http://schoolsofthought.blogs.cnn.com/2013/02/25/my-view-when-the-president-was-my-professor
Update Discovery – May 27, 2013
Michelle Robinson Obama only appeared in two of the photos: Wedding and reception photos with future President Obama. The other photos were Barack "Barry" Obama with his wife who married several years before the 1991 photos. "Barry's" wife is Michelle Obama's Decoy/Impersonator as the "First Lady" of the United States.
Part 4
Click on Link http://www.apoliticalawakening.com/somefile.html